Purchase of the Bohn-Bettoni collection
Jerome Vallen, Dean of the newly opened Hotel School at UNLV, was one of the first to approach Bohn's daughter, Mrs. Marion Knutson, about the purchase of the menus as an aid for students of the hotel school after he saw them advertised in a trade publication. Although Cornell University had expressed interest in the collection, Mrs. Knutson was eager that they go to a Western institution.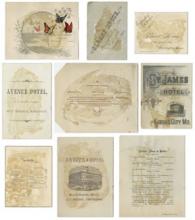 Hal Erickson, then Dean of Libraries at UNLV, worked with Vallen to obtain funding from donors for the purchase of the collection, and in July 1970 they were delivered to the UNLV Libraries. Mrs. Knutson generously supplemented the purchase with over fifty years worth of Hotel World as a means to provide further understanding of the menus in the collection, many of which had been extensively chronicled in the pages of the magazine.
In the first decade after the purchase of the menu collection, Special Collections staff obtained information from the Library of Congress on how to clean and restore some of the menus in-house. Many loose menus were cleaned of surface dirt, but it was only in the 1990s and 2000s when professional conservation practices were utilized by UNLV Libraries Preservation staff to remove many of the menus from their highly acidic scrapbook surroundings. Although damage to some menus was unavoidable, the majority have been preserved in excellent condition.