For those diners seeking a truly elegant dining experience, Las Vegas hotels offered up a number of gourmet restaurants beginning in the early 1960s. Here one could find elegant décor, intimate surroundings, music, and the most expensive and exquisite food offered on the Las Vegas Strip. There was a variety of food offerings in these gourmet rooms, with many following the classic French cuisine model while others focused on seafood, steak, or Italian food.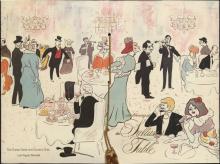 The Sultan's Table at the Dunes has generally been acclaimed as the first true gourmet restaurant on the Strip, but it was followed quickly by others such as the Delmonico at the Riviera, the Dome of the Sea at the Dunes, the Candlelight Room at the Flamingo, the Regency Room at the Sands, and Le Gourmet Room at the Tropicana among others.
In a class by itself was the Bacchanal Room at Caesars Palace, which might be more appropriately termed a "gourmet experience." Guidebooks of the period advised visitors to allow at least three hours for the full dining experience at the Bacchanal which included wine service from toga-clad waitresses.
Crucial to the gourmet dining experience were the skilled chefs that made these meals possible. In the days before the Food Network made celebrities of chefs, the chefs in Las Vegas were acclaimed for backgrounds that included tenure in some of the finest hotel kitchens in Europe and America such as the Ritz in Paris or the Savoy in London. Many of these chefs, in fact, hailed from Europe. Although they were never household names like the celebrity chefs of today's Las Vegas dining scene, men like the Stardust's Erwin Schnider, Bill Jaeger at the Aladdin, Jean Bertraneau at the Dunes, F. Martin Appelt at the Tropicana, and Nat Hart at Caesars Palace provided memorable dining experiences for generations of visitors and residents alike.