Little is known of Mr. Bettoni beyond the fact that he was the manager of the Globe Restaurant in London in 1901. One could speculate that the restaurant industry in late 19th century London was a small fraternity indeed, judging by the numerous menus collected by Bettoni from some of the most well-known eateries of the day: the Hotel Cecil, Savoy, Café Royal, Claridges, and Trocadero.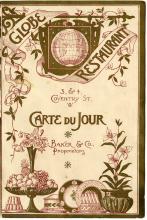 Many of the menus in his collection were celebratory banquets held in honor of British regiments returning from conflicts in far-off corners of the Empire, or for fraternal and charitable organizations such as the Masons. Others were of private celebrations such as weddings or anniversaries, or foreign banquets held in honor of European royalty such as King Edward VII of Great Britain, or King Victor Emmanuel of Italy.
Bettoni's scrapbook contained over 600 items carefully pasted onto pages with small, hand-lettered cards in French serving as captions for the various menus along with elaborate paper cut-out decorations featuring the coats of arms of European countries and royal houses. For preservation reasons, the menus were carefully removed from the highly acidic paper of the scrapbook and placed in acid-free folders and boxes.