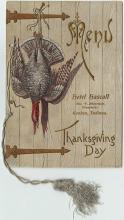 Many of the hotel restaurant menus in the Bohn Collection are those that celebrate more common events such as national and religious holidays in the United States. It was typical for many of these menus to feature an image of the hotel on the front cover, while other graphics were sweet and nostalgic as befitting this era in American history.
For Thanksgiving menus, images of pilgrims, wild birds, and pastoral scenes are dominant, but more memorable, perhaps, are the menus featuring humorous depictions of turkeys trying to fend off their imminent demise. A particularly amusing (if somewhat morbid) one shows a group of animals bound for the Thanksgiving table—rabbit, duck, goose, chicken, turkey, and turtle—holding paws and wings and encircling a giant red serving dish. Upon opening the menu, one could then discover a variety of dishes featuring each of the animals pictured on the cover.
Although the Thanksgiving cuisine featured in these late 19th- and early 20th-century American menus was indeed heavy on the game animals (including squirrel, opossum, antelope, and bear in some cases), turkey with cranberry sauce and mashed potatoes was still a common offering. Interestingly, the present-day staple of pumpkin pie did not appear on all Thanksgiving menus, which instead favored mince pie (a dish that has largely fallen out of favor in modern times) as a more common dessert.