Moving far into the 20th century, we find numerous Las Vegas menus that also double as show programs for individual entertainers and famous production shows.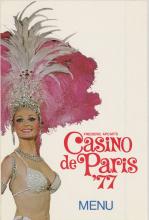 Las Vegas hotel/casinos were as famous for the food they served as for the fabulous entertainment presented in their showrooms; menus from the showrooms provide a visual reminder of these events and, judging from the number of these menus that survive, were a popular souvenir.
Showroom food was more elegant and the show menus' designs were correspondingly posh. The Café Continental at the Stardust housed the world-famous Lido de Paris, and its menus always featured a colorful and stylized representation of a showgirl. The menu for the showroom at the Dunes that featured the Casino de Paris production show was sure to have an amazing cover created by costume designer Jose Luis Vinas or a photo of a glamorous showgirl in all her rhinestone glory. Menus that celebrated individual performers were just as prized; UNLV's collection features, among others, dinner menus that accompanied the shows of Elvis and Barbara Streisand, both inaugural performers in the International's showroom in the late 1960s.