There are a wide range of designs in both the Bohn and Bettoni Collections. Some menus feature plain cards with the various courses printed or handwritten in an elegant font; others were illustrated by typical Victorian graphics such as bouquets of flowers or cherubic angels or children; and still others featured engravings of beautiful ladies or historical figures. Animals and pastoral scenes were another common type of illustration found on these menus, especially those from America. Others featured the graceful art nouveau designs of the Belle Époque, while embossed, raised designs were a common decorative device on some of the more minimalist menus.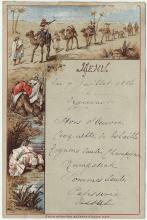 In Great Britain, regimental dinners were common in the late 19th century, and menus typically feature the regiment's insignia, as do those menus from fraternal organizations such as the Masons. Royal coats of arms were another decorative element that were frequently utilized on menus from banquets honoring royalty on both the Continent and in Great Britain. Images that depicted exotic scenes representative of the British Empire were also popular illustrations for British menus from this time period.
If they seem to lack sensitivity with regard to the indigenous peoples of these far-flung lands, or depict stereotypes that are offensive to the modern eye, it is important to remember the context of the times and understand how their portrayals were typical and representative of how these peoples were viewed in late 19th and early 20th century Britain. In viewing them today, we can see beyond the artwork itself for the insight these images provide for social historians of the period.