The majority of menus selected for this digital project came from the Bohn-Bettoni Collection, which consists of approximately 2000 restaurant menus dating from 1870-1930.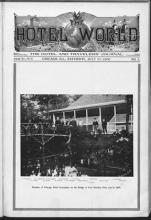 Henry J. Bohn, editor and publisher of Hotel World magazine, an early hotel and restaurant trade publication, collected both American and Canadian menus for many years and subsequently purchased for his collection the scrapbook of Henri Bettoni, a London restaurant manager of the late 19th century. According to Bohn's daughter, the Bettoni scrapbook weighed nearly 50 lbs; it contained hundreds of rare menus from London, Paris, Florence, and other European locales. Bohn's own collection numbered six smaller scrapbook volumes and also included additional cartons of loose hotel convention dinner menus that Bohn had collected with the help of Charles Gunther, the noted German-American confectioner and collector whose collection of unusual artifacts were later sold to the Chicago History Museum.
The UNLV Libraries purchased the Bohn-Bettoni Collection in 1970.