The menus in this collection not only provide evidence of our culinary heritage but also demonstrate the significant role that food has played in the celebration of many different types of events. Wedding banquets are one of the most common types of celebratory events that involve food prepared as a means to indicate social status and opulence. A small number of wedding and anniversary menus (banquets, lunches, and breakfasts) in the Bettoni Collection provide examples of this menu style.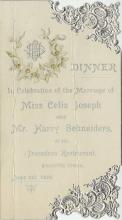 Other common events for which menus are employed are dinners or banquets honoring notable individuals, organizations, or military regiments. The Bettoni Collection features numerous menus that served as both menus and programs celebrating special events for fraternal organizations, particularly the Freemasons, with their distinctive compass logo forming part of the menu's design. Other groups with distinctive menus included those of fraternities and sororities as well as social and charitable organizations with names like the St. Andrew's Society, the Surrey Sportsman Club, the Shropshire Society, and the Italian Benevolent Society.
The Bettoni Collection also provides numerous examples of banquet menus honoring royal figures prominent in Europe in the late 19th and early 20th century. Events such as the Diamond Jubilee (celebrating Queen Victoria's sixty years on the throne of Great Britain), the state visit of Edward VII (Victoria's son) to Paris, and a dinner in honor of the Belgian royal family provided palace chefs with an opportunity to showcase the grandest and most expensive dishes they could offer. Surviving menus that sport expensive card stock with gold-embossed insignia and coats of arms provide evidence of the grandeur of such occasions.