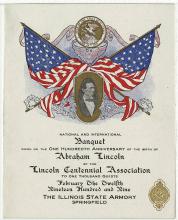 The Bohn Collection also contains menus celebrating uniquely American holidays—Lincoln's Birthday, Washington's Birthday, and the 4th of July—with their colorful graphics matching the theme of the event. The celebration of George Washington and Abraham Lincoln's birthdays on February 22 and 12 respectively was incorporated into formal banquets held in grand hotels in a number of American cities in the late nineteenth century and into the early twentieth century. Both men held hero-like status among the American public, with Washington revered as the "father of our country" and Lincoln's leadership during the war between the states and his tragic death ensuring his immortality. In fact, some Lincoln menus in the collection also featured quotes from the late president as well as patriotic songs of the period honoring his work.
Menus honoring Washington and Lincoln typically featured special desserts that celebrated the honoree. Patrons might dine on "Game Pie à l'Indépendence" before they sampled sweet dishes such as "Washington Cream Cake," "Washington Roll with cognac sauce," or "Valley Forge ice cream" when celebrating the birthday of our first president. Those diners perusing a menu in celebration of Lincoln's birthday might quench their thirst with "Log Cabin Punch" before digging into a dish of "Lincoln Pudding." Both types of menus featured a dessert specialty called "Washington Pie" but there is no indication as to whether it contained cherries, a fruit indelibly associated with the president who could not tell a lie.
Some July 4th  menus featured dishes with a patriotic theme as well. A menu from the Hotel Savoy in Kansas City, Missouri, allowed diners to chose from among dishes such as "Broiled Mackinaw Trout Style 1776 with Potatoes Saratoga," "Spring Lamb chops à la W.J. Bryan" (showing their political colors in support of the 1900 Democratic candidate for President), and "Martha Washington Pudding" with a lemon cream sauce for dessert.