The life of Henry J. Bohn is less of a mystery than that of Bettoni. Born the son of German immigrants near Cleveland, Ohio, in 1855, Bohn worked first on the family farm, then as a telegrapher and in a printing office before moving to Chicago in 1876. At age 23 he became foreman in a newspaper office; this initial work in publishing led to a lifetime of work as owner and editor of Hotel World, which he purchased in 1879.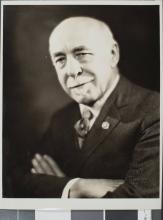 For many years, Bohn worked alongside his brother, John J. Bohn, in publishing Hotel World; his brother acted as editor while Henry J. Bohn served as manager, writing many articles for the weekly magazine as well. The magazine provided information on hotels all over the world and was dedicated to the improvement, welfare, and betterment of "hostelries." Bohn's daughter would later write glowingly of her father:
For over fifty years he was called the "dean" of the hotel press, traveling to the openings and making speeches at all the great hotels of that era. He was sought after as a consultant on matters of every nature. He had a great effect in helping educate the general public and the business world as well, to the respectability of hotels and their place in family entertainment and good food service.
Bohn's work for the hotel industry was not limited to his work with the magazine; he was, in his daughter's words, "association-minded" and throughout his life worked to promote the activities of the many organizations of which he was a member or leader. In 1887, he co-founded the Hotel Men's Mutual Benefit Association of United States and Canada with Col. F. Willis Rice, publisher of the Daily National Hotel Reporter, and for over forty years served on its Board of Directors. Locally he assisted in the formation of the Illinois Hotel Association, as well as a number of other press organizations in Chicago. In 1911, following the sudden death of his brother John in a car accident, Bohn took over as editor of Hotel World, continuing in this role until his retirement in 1928. Following his retirement, Bohn continued to write a column for Hotel World until his death in Florida in 1930. In total, Bohn had spent the greater part of fifty years writing about the hotel and restaurant industry.
As numerous pages in his magazine were devoted to culinary endeavors, Bohn's menu collection most likely grew as a result of the hundreds of menus that were sent to him by hotels and restaurants around the US; all sought a chance to have their establishment's name and menu singled out for description in the dining columns of his Hotel World magazine.  His collection contained menus from hotel restaurants located primarily on the East Coast and in the Mid West; there were a smaller number from Western states such as Montana, Colorado, Washington, and California. Specialty holiday menus featuring Christmas and Thanksgiving dinners are some of the more colorful items in the collection along with those menus celebrating less prominent holidays such as Valentine's Day, Easter, and the Fourth of July. Other notable banquet menus in the collection celebrate the lives of prominent Americans such as Washington and Lincoln, and Civil War generals such as Ulysses S. Grant. Stretching well in the first three decades of the 20th century, the menus in Bohn's collection showcase the changing nature of American cuisine at a time when entrees such as "haunch of bear" were commonplace offerings alongside the traditional turkey dinner for Thanksgiving and Christmas celebrations.