Most people know about Elvis Presley's connection to Las Vegas—there was the 1964 film Viva Las Vegas starring the rock n' roll icon and screen goddess Ann-Margaret, the countless performances late in his career,  the wedding to Priscilla at the Aladdin Hotel. However, many do not know that it was in part due to Las Vegas that his fledgling career was rescued.
His first performance in Las Vegas was in 1956 in the Venus Room at the New Frontier Hotel. While he was gaining popularity with American young people, his style didn't conform to the city's typical dinner show standards and he received a less than enthusiastic reception. One critic, Bill Willard of the Las Vegas Sun, wrote, "For the teen-agers, the long, tall Memphis lad is a whiz; for the average Vegas spender or showgoer, a bore. His musical sound with a combo of three is uncouth, matching to a great extent the lyric content of his nonsensical songs."
For the next few years, Elvis rose to fame by recording hit songs, playing sold-out shows, and making appearances on popular television shows. After two years of service in the U.S. Army from 1958 to 1960, his manager Colonel Tom Parker pushed Presley into pursuing a career in Hollywood acting in films and recording corresponding soundtracks. While almost universally profitable, the films were panned by critics and Presley was no longer happy with the direction his career was taking. Additionally, sales on Presley's albums were plummeting and music executives were beginning to think of him as just another flash in the pan. Parker planned to stage Elvis's comeback to show business by organizing a television special, which was ultimately called Elvis: the '68 Comeback Special, the success of which led to many offers for live performance contracts.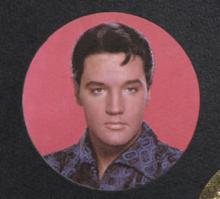 In 1969, the International Hotel opened in Las Vegas, and its owner Kirk Kerkorian offered Elvis an exclusive performance engagement at the property. The show opened on July 26, 1969, to a star-studded audience that included Sammy Davis, Jr., Tom Jones, and Fats Domino. It was during these performances that he introduced what might now be called the "Vegas Elvis" persona, complete with sequined jumpsuits and mutton chop sideburns, which is much different from the Elvis pictured on the menu from the Showroom Internationale. Here we see an Elvis more reminiscient of his Hollywood days, an indicator that this menu might be from his earliest performances in 1969. Also, while the menu does not state the cost of the show, some sources say the dinner show cost $17.50 per person, while the midnight show cost less but included drinks.
Even after the International became the Hilton in 1971, Elvis continued performing  there exclusively until his death in 1977. At the time he set a Vegas record by playing more than 800 consecutive sold out shows and selling $43.7 million in show tickets.
Sources: