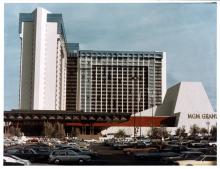 Financier mogul Kirk Kerkorian, who had just sold his mega International Hotel to Hilton, now wanted a Las Vegas theme hotel that flaunted the image of the famous movie studio that he had just acquired and the great MGM movie "Grand Hotel." He turned to the architect of the International, Martin Stern Jr. to design his new monument.
Built on the former site of the Three Coins Motel and the Bonanza Hotel, (both designed by Homer Rissman) the MGM Grand, which opened in 1973, was truly grandiose with an epic porte cochere guarded by a statue of Neptune, and an entry drive which seemed to stretch a half-mile back from the Strip. (Bally's later constructed a lengthy moving walkway to get pedestrians from the hotel entrance to the Strip.) The cavernous MGM Grand Theater was especially designed for Donn Arden's epic show Hallelujah Hollywood and the later Jubilee which is still running.
The famous MGM Fire of 1980 killed 85 people, mostly by smoke inhalation. The fire started as an electrical ground fault in a restaurant called the Deli and spread quickly across the second floor casino and restaurants. Most of the deaths occurred in the stairwells of the upper floors of the hotel. The second tower which was not affected by the fire was opened the following year. Kerkorian sold the hotel to Bally's after the fire.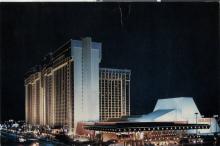 Location of all projects in the collection
MGM Grand, Las Vegas (now Bally's)