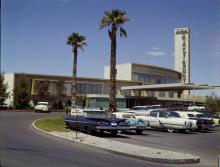 The early south Strip was primarily developed by southern California hotel developers. Efstonbuilt Co., a Chicago restaurant fixture contracting company which had relocated to Los Angeles, developed an idea for a resort hotel in Las Vegas on the undeveloped south end of Highway 91. James Efston had invited his Chicago friend, architect Homer Rissman, to California to remodel the coffee shop and drugstore in the Long Beach Wilton Hotel. This association with Efston led to Rissman's designing the Lady Luck, his first Las Vegas hotel in 1954. The Lady Luck, which was bought while still in design by the California Hacienda Motel chain, eventually opened as the Hacienda in 1956.
Rissman's records and drawings from this project fully document its design and construction history. The original concept drawings for Efston's generic "proposed structure" looked more like a high school or factory than a hotel. The drawings morph through a series of totally different design concepts; first into the Lady Luck, then into the Hacienda with its distinctive façade, pylon sign and Vaquero Rider.
The Hacienda resort initially opened in 1954 without a casino.  Warren "Doc" Bayley was unable to get a gaming license because of issues surrounding Jake Kozloff, his intended casino manager, formerly of the Last Frontier. The Hacienda resort closed briefly, but re-opened in 1956 when Kozloff was removed from license application. The Hacienda resort owned its own fleet of airliners for its ambitious air travel promotions.  The Hacienda was also one of the first Strip hotels to market to families and budget travelers.
Location of all projects in the collection