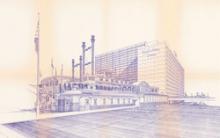 In 1954, the owners of the Desert Inn hotel opened the Desert Showboat Motor Inn Casino with a riverboat paddlewheel motif on east Fremont Street and the Boulder Highway (which later became the Castaways). But its distance from the Strip meant it never attracted a large tourist crowd and remained  primarily a locals' casino.
In 1971, Holiday Inn opened the River Queen Casino in front of its new hotel on the former site of the Tumbleweed Motel and Pyramids Motel on the Las Vegas Strip north of the Flamingo. Shelby and Claudine Williams, former owners of the Silver Slipper, took over the casino in 1973. Homer Rissman, Holiday Inn's house-architect, designed the riverboat themed casino which the Williams renamed the Holiday Casino.
In 1983, Holiday Inn acquired full ownership of the casino and hotel and its subsidiary, Harrah's, took over its management with Claudine Williams as Chairwoman. In 1992 Harrah's Entertainment, no longer a subsidiary of Holiday Inn, took over the property and renamed it Harrah's Las Vegas, the first hotel in Las Vegas to carry the name of Bill Harrah. When Harrah's built its new tower, designed by Martin Stern, to replace the original Holiday Inn, the Showboat was demolished to be replaced by the Harrah's new carnival theme.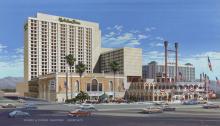 Location of all projects in the collection