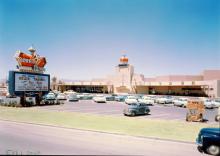 The Royal Nevada was developed by a group of Chicago and St. Louis investors who had difficulty acquiring gaming licenses. The hotel casino opened in April 1955, sporting a crown on its façade and the "Dancing Waters" water fountain show, just a day before the Riviera and within a month of the Dunes.  
But 1955 was a bad year on the Strip as all three hotels (and the west side property, Moulin Rouge) all went bankrupt. The Royal Nevada struggled through constant financial trouble, went through a series of owners and operators, and was finally incorporated into the Stardust in 1959 as its convention center and eventually disappeared under later expansions.
The Stardust closed its doors in late 2006 and was demolished to make way for Boyd Gaming's Echelon project which itself ran into financial problems and was never completed, and now stands as a rusting metal skeleton.
Location of all projects in the collection