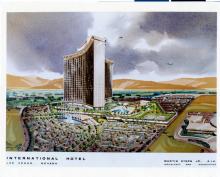 The International Hotel was the first true mega-resort and the first utilizing Martin Stern Jr.'s distinctive tri-form, with room wings radiating from a central service core.  
It was also known for its mammoth showroom and variety of internationally-themed restaurants. Kirk Kerkorian took over the original hotel concept from Marvin Krattner who had envisioned an exclusive International Country Club Estates with a championship golf course and hotel on the site of the old Las Vegas Speedway. Kerkorian purchased the property from Krattner and completed construction in 1969 of what was the largest hotel and casino in the world in record time.
Kerkorian hired Barbra Streisand and Elvis Presley for the resort's grand opening, but Elvis let Streisand open, and followed her with 58 consecutive performances. Elvis re-launched his career in Las Vegas, and continued to perform at the International until 1976, living in the penthouse suite during his stays in Las Vegas. The International was the site for the fight in which Leon Spinks defeated Muhammad Ali for the World Heavy weight championship in 1978. The International was also the site of the notorious Navy Tailhook Association meeting in 1991.
In 1981, just 90 days after the MGM Grand fire, an arson fire was set in the International in which eight people died. Firemen who had learned from the MGM fire were able to keep guests out of hallways and stairwells.
The original sign blew down in a storm in 1994. The new sign, built in 1997, was the largest free-standing sign in the world, and was taken down in December, 2011.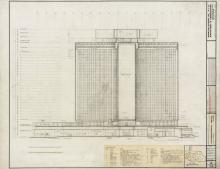 International (Las Vegas Hilton, now Las Vegas Hotel & Casino, or LVH)