"Martin, they're blowing up your tower." "What tower?" "The Sands Tower."
" . . . oh.  . . . well, it wasn't much of a tower . . ."
from a conversation with Martin Stern, Jr.
" . . . and (Kirk) Kerkorian said, 'I want to build a hotel.'
and I said, 'What kind of hotel?'
'A Big One'
from a conversation with Martin Stern, Jr.
Martin Stern Jr. was born in New York on April 9 1917, the son of a traveling salesman.  After he completed high school , his family moved to Beverly Hills California, although his father was almost always on the road. Stern went to the University of Southern California where he studied architectural engineering. After graduating, he worked for a time as a sketch artist for a Hollywood film studio and on various government military construction projects until he was drafted into the army in 1942. While stationed in Ogden Utah with a signal company, Stern renovated the officers club, base theater and Post Headquarters Building.  In 1943 he was promoted to 1st Lieutenant in the Army Corps of Engineers. Stern participated in the Allied invasion of France with an engineer battalian and supervised  the construction of bridges and barracks for combat troops in Belgium, locating lumber and reopening seven sawmills. The following year he served as a military governor for the Stadtkreis and Landkreis districts of Germany wih responsibility for agriculture, rationing,supply, fianance asnd property control and transpotrtation. 
After the war Stern returned to California and started his own business designing and supervising the construction of apartment buildings. Between 1951 and 1953, he served in the army as a reservist First Lieutenant in the 6th Army's  Corps of Engineers, in the Construction and Planning Division, designing  master plans and construction programs for army camps throughout America including Camp Irwin and Camp Cook in California. After his discharge he set up his own practice in Beverly Hills designing apartment buildings, houses, restaurants, bowling alleys, and office buildings, and the notable Googie-style Ship's Coffee Shops, which helped to define LA's drive-in culture.
His major clients were big regional construction companies like Diller and Wagoner. Stern's first foray into the Las Vegas market was in 1953 when he designed the low-rise room additions for the Sahara Hotel for Diller Construction Company. His career took a major turn in 1954 when he began a long association with Arizona construction contractor and developer Del Webb. Del Webb had built the original Flamingo Hotel for Bugsy Siegel and Billy Wilkerson and took over the construction (and ownership)  of the Sahara Hotel. For Stern it was the beginning of a succession of Sahara Hotel projects , from the first 14-story high-rise tower in 1959, to the later additions of a convention facility in 1967, a 342-room hi-rise addition in 1977 and another 625-room addition in 1979.  
Stern established his reputation as a hotel architect for Del Webb.  His work for Webb outside Las Vegas included the Del Webb Townhouse hotels, the Kuilima resort and country club in Hawaii, and the Sahara at Lake Tahoe, and his personal residence. On Fremont Street Stern designed for Webb the Mint and Lucky Strike.  Del Webb would remain Stern's biggest single client until he began designing for Bill Harrah and Kirk Kerkorian who succeeded Del Webb as the next generation of resort developers.  
Stern designed the new tower for the Sands Hotel in 1964 as part of a major expansion project completed in 1967. The original two story room buildings, designed by the original Sands architect Wayne McCallister, were actually moved to accommodate the expanded casino, showroom, and convention space of the modern corporate convention hotel. Gone was the intimacy of the original Copa Room where Jack Entratter's parade of Stars and Copa Girl productions had performed for decades and the casino where headliners mingled with elegantly suited and furred casino crowds after the show. The New Sands, designed by Stern in 1964 and sporting a new YESCO sign more in keeping with its new image, signaled a new scale and tone on the Strip. Gone was the sleek and low-slung intimacy of lounges, manicured lawns with rambling motel room wings with private box balconies overlooking the pool with its beauties, replaced with a bigger, bolder, and self-confident look of a legitimate corporate business. 
Not all Strip hotels went high-rise. In 1967 Stern designed a low-rise remodel for the Flamingo, with a curved facade and a glass encased sky-room restaurant (echoing the old Desert Inn's sky-room restaurant). The Flamingo's familiar pink neon champagne cylinder (part of the 1953 renovation and not part of Bugsy Siegel's original hotel) was gone, replaced by the now equally familiar pink plumed sign. And, having raised the skyline of the Strip, Stern did the same downtown with a 26-story high-rise for the Mint Hotel in 1968.

By 1967, Martin Stern Stern was well established as one of the major resort hotel architects in the country, and in this year alone he had nine Las Vegas hotel projects in production. In 1970, his newly incorportated firm had thirteen projects in various stages of design and/or construction including the Stardust, Sands, Eldorado, Landmark, Aladdin, Harrah's, Hiton International, Bonanza, Kuilima, Sahara, Thunderbird, Flamingo, and Circus Circus. With a booming multi-million dollar business, Stern now supervised a group of architects that included Brian Webb and Joel Bergman, both of whom went on to become major architects in ther own right.
It was with the International Hotel, built for hotel mogul Kirk Kirkorian off the Strip and next to the Convention Center, that Stern truly altered the Las Vegas architectural landscape. The International, a megalithic triform, (often repeated and now ubiquitous—if not de rigeur—on the Strip) was an overscaled, smooth-sided corporate block in which the porte cochère and elaborate driveways and parking lots defined the setting, not the highway. Its theme was carried throughout the resort by a series of international restaurants each with its own unique and individual design, reminiscent of Disney World's Epcot Theme Park. Its gargantuan showroom, opened by Barabara Streisand, would later become Elvis Presley's final Las Vegas venue.
The MGM Grand followed in 1971, again built for Kerkorian, with its grandiose entry befitting the Hollywood that defined the hotel's theme. He developed another trade mark design: towers with the top floors wider than those below, to accentuate the luxury suites with their panoramic views.  Inside, Stern created and refined the interior labyrinth of the self-contained resort micro-city, with craftily designed and interconnected casinos, restaurants and shops, and the enormous showrooms and theaters that Las Vegas headliners and Donn Arden's famous sequin-dripping, showgirl-plumed, Titanic-sinking extravaganzas now required. It was a different Las Vegas, a different show from Dean Martin and Frank Sinatra crooning in the Copa Room and slipping into the casino for some after-the-show relaxation at the tables.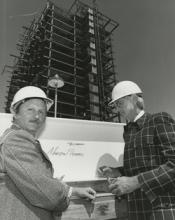 The MGM Grand was the last of Stern's Strip monuments, but he continued to redesign and refine the Las Vegas skyline at the Sahara and the Riviera, where he created a series of additions. The Riviera was the first high-rise hotel in Las Vegas, with its 9-story Miami-Modern tower completed in 1956. Stern added a 300-room addition in 1974, in 1977 added six stories to the top, and in 1981 and 1984 he designed expanded casino.
It can be said that it was Martin Stern who truly transformed the architectural landscape of Las Vegas,  who raised the skyline and took the low-slung sprawling strip motel with its two-story room wings around a pool, to the imposing high-rise hotel that now characterizes the Strip. As the premier designer of mega-resort hotels conceived as self-contained mini-cities, Stern was the master of integrating all the complex functional and spatial proximities and interrelationships of the modern resort hotel, from parking and landscaping, to showrooms and convention space. He understood the economics of luxury suites and casinos, and what colors to put near which bank of slot machines, and where to place restaurants and elevators for the maximum effect.  His design and renovation of casinos have made his plans the subject of interest for students of how interior space of hotel casinos has evolved from the earliest highway motel-with-nightclub settings (or  from Stern's master planned army bases) to the modern themed hotel complex. CityCenter is simply the latest iteration of that urban resort concept.
Stern was also responsible for the export of the Las Vegas hotel/casino to other resorts. His association with Harrah's made him the most prolific architect in Atlantic City and in Reno/Tahoe, where his Las Vegas forms were often repeated in scaled-down versions such as the MGM Grand in Reno. But he did not simply transplant Las Vegas hotels to other cities; his designs for the Showboat and Playboy and Marina properties in Atlantic City, Harrah's, Sahara, and Harveys at Tahoe, and the Kuilima Hotel and Country Club in Hawaii were a distinctive and carefully designed blend of a resort theme with its natural setting. The Atlantic City Showboat design, for example, took the traditional gambling boat motif of the Las Vegas Showboat hotels and rendered it into a modern stylized and streamlined cruise ship design, and the marina motif was carried further in the smooth sleek sailing lines of Harrah's Marina. Harrah's Tahoe, Bill Harrah's flagship hotel when it opened,  had to conform in design and position to stringent local control of development on the protected shore of the lake. Its design, exterior surface, and profile  were carefully studied, plotted, designed, and re-designed, resulting in a distinctive look that blended into its rustic setting.
An architect's unbuilt projects are almost as interesting as the ones that are built—perhaps because they survive as the unadulterated image of the architect's design unblemished by actual construction, renovations, and aging:
Stern made designs and proposals for the Flamingo, the Aladdin, the Thunderbird, the Fremont, the Stardust, and Circus Circus which were not constructed.
His 1965 Fremont Hotel high-rise design included a saucer shaped Sky Room at the top.  
Stern's 1970 Circus Circus design lost out to Rissman and Rissman, and Associates.
Stern's 1972 proposal for the expansion of the Flamingo that included its first high-rise tower was also rejected in favor of a Rissman  design.
Stern's 1975 proposal for the Aladdin was rejected in favor of Lee Linton's Moorish design.
In 1981, Stern designed a twin for Linton's tower which was also not constructed.
Also in 1981, Stern designed an expansion project for the Landmark Hotel with a large quarter-circle high-rise, with a towering atrium and triangular theater structure jutting from an open plaza. It had design elements, the sloped and stepped tower, with which he had experimented on the Xanadu and later used in the Atlantic City Showboat.
But the Stern design that should have been built was the Xanadu. The Xanadu Hotel was planned for the site now occupied by the Excalibur. The financing fell through and Stern estimates that he himself lost a million dollars in the project. The Xanadu was a giant mastaba with a huge atrium. The rooms were stepped back by its sloping walls, a presage of the later Luxor. Most striking in the glittering presentation drawings of the interior of the atrium is the circular bar suspended several stories above the floor on a slender stemlike column, like a small Shangri-La in the clouds, or maybe a giant daiquiri glass.
When Martin Stern donated his drawings to UNLV he remarked that from them, all his buildings could be reconstructed to the last detail—an interesting thought. The collection consists of over 600 sets of drawings, representing over 300 individual projects involving over 100 buildings, some of the buildings having been the subject of several projects such as renovations or additions. Of particular historical value are sets of original drawings of buildings that Stern later renovated, such as the original McCallister drawing of the Sands when it was the Cafe LaRue, as well as original drawings of the Riviera and Stardust.
There are probably 15,000 drawings including site plans, perspectives and renderings, shadow plans, floor plans, a set of comparative studies of floor plans of different Las Vegas hotels; elevations; sections; details; furnishings; architectural, structural, mechanical, electrical, and plumbing plans representing all stages of design from preliminary pencil sketches to presentation; submittal and working drawings. From the details of external ornamentation of stair rails, to the doodling of traffic patterns in parking lots, casino layouts, theater design, lighting and all those structures and functions of the modern mega-resort hotel, tennis courts, pools, coffee shops, window frames, elevator doors, even the furniture layout in the penthouse suites (of the Sands Tower), there is much of the history of Las Vegas in the drawings of Martin Stern, Jr.