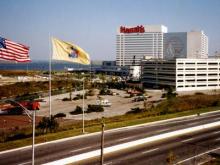 The last of William Harrah's property development decisions, the Harrah's Marina was the first hotel and casino resort on Atlantic City's Boardwalk in the Marina District. 
When William Harrah died in 1978, his company had just begun to expand into new markets, in particular Atlantic City. In 1980, Harrah's Marina was developed and later named Harrah's Atlantic City.  Harrah died before the site could be built, and when his company was bought out by Holiday Inns, Inc. the Atlantic City project was briefly re-named Holiday Inn Marina Casino. During its development, however, the now subsidiary Harrah's company reasserted its corporate name on the resort.
The site and footprint of the property on the newly developed marina district of Atlantic City created a challenge to architect Martin Stern, which is evidenced in the many revisions of the original plans.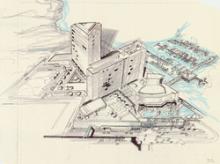 Location of all projects in the collection
Harrah's Marina now Harrah's Atlantic City