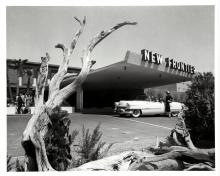 The second resort on the Strip after the El Rancho, the Last Frontier Hotel opened in 1942 built by movie theater chain owner R.E. Griffith.
The Frontier went through various design, theme and name iterations from its original western village to a space-aged "New Frontier", until Homer Rissman completely redesigned it in 1966.
Elvis Presley made his first Vegas appearance at the Frontier in 1956 and bombed.  The hotel later became home to Siegfried and Roy. Mort Saiger, known as "Mr. Frontier," was the longtime unofficial "host".  Known as the Last of the Pony Express Riders, he escorted guests on horseback riding outings.
Its later history under anti-union owner Margaret Elardi was dominated by a lengthy and bitter labor dispute. It was demolished in 2009 to make way for a vacant lot.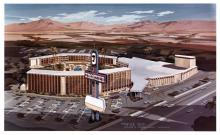 Location of all projects in the collection