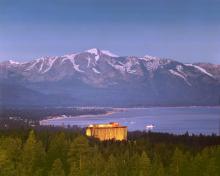 William Harrah, whose gaming and entertainment empire had grown from a small bingo club in Reno, built his premier five-star flagship hotel in Tahoe 1971 to replace his original Stateline casino and showroom.
Designed by Martin Stern, Jr., who also designed Harrah's Hotel in Reno, and later the Marina in Atlantic City, Harrah's Tahoe, which opened in 1973, was the first casino to ever receive a 5-star diamond rating from the American Automobile Association (AAA).
Shoreline development and building design were carefully regulated and controlled in Tahoe to protect the natural environment of the lake. Martin Stern's design went through rigorous environmental impact revues. The tower, originally designed for 24 stories, was lowered to 18 and turned so that its narrowest façade faced the lake. The original white façade was changed to brown with sculpted panels on the tower ends designed to resemble a tree trunk so that the entire structure would aesthetically blend into the tree-covered surroundings. Stern's proposal included a complex set of schematics with perspective projections of the tower into the existing landscape.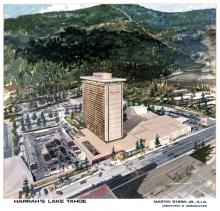 Location of all projects in the collection