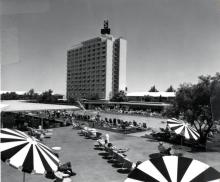 The Sahara began as Club Bingo, a small casino built on the outskirts of Las Vegas in 1947. In 1952, the original owner, Milton Prell, who would also build the downtown Lucky Strike and The Mint, formed the Sahara-Nevada Corporation and built the Sahara on the former site of Club Bingo.
When Max Maltzman, the original general contractor became ill, Del Webb, who had just finished building the Flamingo, took over both the construction and then ownership. Martin Stern designed the first high rise hotel tower on the Strip in 1959 for the Sahara which went through continuous expansion through the 1970's adding room towers (its 1963 tower was the tallest building in Nevada at the time), a convention center, and its famous YESCO sign.  
The Sahara was a major nightclub and entertainment venue rivaling its neighbor the Sands for its celebrity headliners including Frank Sinatra, Judy Garland, and Louis Prima. The Beatles stayed there when they performed at the nearby Las Vegas Convention Center.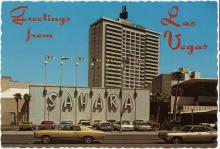 Location of all projects in the collection