Esmeralda County
Inquiry Questions
How dependent was Columbia on Goldfield? Could the town have succeeded had it not been in proximity to Goldfield?
Columbia, originally named Stimler, is a suburb of Goldfield and is located one-mile north of Goldfield. It boomed in 1902 when gold was discovered at the base of the Columbia Mountains. Within two years the town had businesses, a bank, post office, chamber of commerce, a lodge, city hall, the Columbia Club, and a drug store. A weekly newsletter, "The Goldfield Review," was locally printed in 1904. Its mines were known for their rich, oxidized gold ore, and by 1907, the population had reached 1,500. With the construction of the Tonopah and Goldfield Railroad Depot, transportation costs plummeted, and a ten stamp combination mill was built. However, Columbia's growth was dependent on Goldfield, and when Goldfield began to decline in 1908, Columbia did as well.
Inquiry Questions
How did success of towns including Goldfield and Tonopah affect the success of the surrounding cities? Are there factors that would have changed the balance of success between the towns?
Divide is located 4.5 miles south of Tonopah within the Gold Mountains. Two Tonopah prospectors discovered gold ore at the Tonopah-Divide there in 1901. They named the mining district after the surrounding mountains, and as word of the strike quickly spread, Gold Mountain experienced a boom. There were several boarding houses, a general store, saloons, a post office, and a local paper, The Times, but the more prosperous towns of Goldfield and Tonopah drew off much of its population. The area was semi-active through 1917, until high-grade silver ore was discovered and the mines once again boomed and commuters from Tonopah flocked to Gold Mountain to work the mines there. Because most of the mining companies still used the name "Divide," the name of the town was changed from Gold Mountain to Divide. But the boom ended in 1919 and most of the town was abandoned.
Inquiry Questions
Did the "Grandpa" mine live up to its namesake?
Would the boom in Goldfield have been as successful without consolidating mining claims?
Find specific examples from the collection that illustrate the clash between capitalist and socialist interests.
How did the new (1908) Goldfield Hotel find success despite the "seedy" nature of many of Goldfield's inhabitants?
Goldfield was one of Southern Nevada's primary mining capitals, along with its neighbor, Tonopah, located 25 miles to the north. Tonopah's silver discovery in 1900 and Goldfield's gold strike in 1902 opened south and central Nevada to development. In the fall of 1902, Shoshone prospector Tom Fisherman brought a sample of ore he had found into Tonopah. Two other prospectors, Billy Marsh and Harry Stimler, decided to travel back to Goldfield with Fisherman who then discovered float gold on Columbia Mountain. They established a camp near the base of the mountain and christened it "Grandpa," believing it would be the granddaddy of all camps.
Stimler and Marsh drew attention to the district in February 1903 by advertising in neighboring newspapers. Charlie Taylor responded to their advertisements and sought work at the "Grandpa Site," and Stimler and Marsh gave Taylor his own claim. In May the growing settlement was named Goldfield, and Al Myers, a local businessman and geologist, was elected as the district chair. In June saloon and gambling joint operator George Wingfield and his partner, small-time banker George Nixon, left the roaring town of Tonopah where they had had great success and moved to Goldfield, becoming the chief financiers for the district. They bought ¼ of the seventeen claims Marsh and Stimler owned for $10,000. Myers partnered with Harry Ramsey and they invested in the large Combination Mine. September 1903, they sold the Combination to Lucien Patrick for $70,000. In 1904 Nixon, Ramsey, and Myers organized the Mohawk Mining Company. Nixon was made President of the company, a position he held until he was elected U.S. Senator from Nevada in 1905. Patrick also formed a large incorporated mining company, The Goldfield Gold Mining Company of Nevada, in 1904.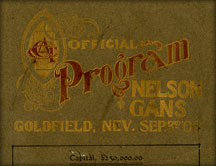 Nelson v. Gans Fight Program
In April 1904, The Goldfield News proclaimed that Goldfield was "the greatest camp ever known." That spring there was a mining stampede and 10,000 inhabitants moved into the district. To keep pace with the burgeoning population, rooming houses, shops, and saloons were thrown up almost overnight, with brokerage and mining offices, a delivery system, electrical lines, assay and survey offices, and the John S. Cook & Company Bank established to service the booming local economy. A narrow-gauge railroad was built connecting Goldfield to Tonopah, while the standard-gauge Tonopah & Goldfield Railroad completed its construction in September 1905.
Goldfield continued booming in 1906; by the end of the year the population had reached 30,000. People flocked to Goldfield from all over the country looking to make their fortunes in this, the last of the great gold rushes, or just find work in the mines or in the many businesses in town. Earle Rinker, a twenty-three year old stenographer from Daleville, Indiana, arrived in Goldfield in October to work for one of the brokerage firms that serviced the growing mining industry.
In 1906 gold production tripled from the previous year. The estimated value of ore mined from 1906-1907 was over $15 million. When George Wingfield merged the Mohawk, Jumbo, Red Top, and Laguna Mines into the Goldfield Consolidated Mining Company in November of 1906, he created one of the biggest mining concerns in the state. He went on to construct a 100-stamp mill on the north side of the Columbia Mountain, which opened in 1908.
Several railroads opened terminals in Goldfield by 1907, easing transportation costs. Senator William A. Clark, a Montana copper baron and creator of the San Pedro, Los Angeles & Salt Lake Railroad connecting Salt Lake City to Los Angeles, built another line to Goldfield, the Las Vegas and Tonopah Railroad, from his junction at Las Vegas. At the same time, millionaire Francis M. "Borax" Smith built his Tonopah and Tidewater Railroad to connect the Bullfrog District and his borax mines in Death Valley to Southern California.
Despite its prosperity, Goldfield experienced a series of debilitating labor disputes from 1906-1908. The radical socialist Industrial Workers of the World (IWW or "Wobblies") and the more moderate Western Federation of Miners vied for control of the district's organized labor. The unions opposed the monopolistic control of the large mining conglomerates such as Wingfield's, and when the mining companies unilaterally introduced changes in work rules, hours, and wages, the unions struck and were supported by many of the working men in the town. The social tensions and threat of violence against the mining companies was so high in December 1907 that Nevada Governor Sparks urged President Theodore Roosevelt to send in federal troops. Roosevelt, who was himself no sympathizer of the big mining corporations, was at first reluctant to do so, but when the governor insisted that social warfare was imminent, the president finally acquiesced. Eventually non-union miners took the place of the union workers, many of whom were in desperate need of work and left the union. By March 1908, the unions had been broken, but the heydays of spectacular strikes in Goldfield were over. The transient population of the boomtown moved on; Earle Rinker was among the many who left.
Despite the simmering labor unrest and financial uncertainties, Goldfield was still an exuberant western town in 1907 and 1908. It hosted holiday parades, drilling matches, prize fights, and was even a stop for the Great New York to Paris Automobile Race (the historical basis for the Hollywood movie The Great Race). With a population of 20,000, Goldfield was, briefly, Nevada's largest city, and it won the Esmeralda county seat from Hawthorne. Downtown boasted a commercial district full of five-story buildings, over five banks, five newspapers (two daily and three weekly), four schools, three railroads, churches of every denomination, stores, and a low-grade steam brewery on the west-side of town.
Numerous entertainment facilities were found throughout Goldfield including dance halls, a French restaurant, a notorious red light district and opium dens, a theatre, and on one block alone there were over twenty-five gambling establishments swarming with dice games, poker, and roulette. The fashionable Palace Club was the central meeting place for the Montezuma Club and local Elks chapter. The legendary "Northern" bar owned by Tex Rickard was so long it had to have eighty servers. Goldfield even hosted the boxing event of the decade, the famous Gans-Nelson fight on Labor Day, 1906. Joe Gans beat Oscar "Battling" Nelson in forty-two rounds to win the Lightweight Championship of the World.
In June 1908, the Goldfield Hotel, which burned down in 1907, was rebuilt by architect George E. Holesworth on Columbia Street. It became the largest building in Goldfield, built at the then staggering cost of $450,000. There were over 150 rooms, half with private baths. The lobby was lined with mahogany, and special chefs served distinguished dishes such as oysters, lobster, quail, and squid at the main restaurant.
By 1910, the population had dropped to 5,000 and Goldfield lost its prominence as Nevada's largest city. In September 1913, a violent flash flood destroyed half of the city. In 1918 the Goldfield Consolidated Mining Company ceased operations; its total production was estimated at $125 million. In July 1923, a fire coursed through Goldfield and leveled 53 square blocks. There was little mining activity thereafter and by 1950 less than five-hundred people lived in Goldfield.
Inquiry Questions
How was Rinker's life similar to and different from that of young American men today?
What tragedies did Rinker face while in Nevada and how common were these for the men living in the region?
Cleveland A. Earle Rinker was born in Daleville, Indiana, in 1883. While he was working in nearby Parker, Indiana, as a stenographer, his boss, who had invested in Nevada mines, encouraged him to seek his fortune in Goldfield, Nevada. In October 1906, Rinker boarded a train for the cross country journey west. Rinker was twenty-three when he arrived in Goldfield, where he was greeted by his uncle, John W. H. Fenwick, a local carpenter. He immediately found employment as a stenographer with the brokerage office of MacMaster and MacMaster. Two friends from Indiana, Dalta Hurry and Ray Jefferson, joined him in hopes of striking it rich in one of Nevada's prominent mining towns. The three young men lived together, first in a tent house and later in an adobe cabin.
Earle wrote home to his family, especially his mother, regularly a couple times a week. His letters are full of the bustle of daily life in Goldfield. Inflation was high, especially for water and daily food items such as eggs and bread. Despite its remote location, Goldfield offered diversions that were more common in larger cities. Rinker attended social dances, plays, boxing and wrestling matches, twenty-four hour gambling halls, holiday parades, horse races, sporting events, and The Great Transcontinental Auto Races.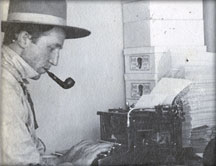 C.A. Earle Rinker in office
While Rinker indulged in a moderate amount of gambling, his riskier bets were on the mining stock market. Rinker enjoyed prospecting trips into the surrounding countryside. One mining expedition with a group of friends ended in tragedy when Rinker's friend, "Tex" Taylor, accidentally shot one of the others while they were playing with their guns making each other "dance". That night they raced back to Goldfield in their buckboard wagon with their wounded friend, but he died the next day.
In his first winter in Goldfield, Rinker came down with the "Black Pneumonia," an epidemic that afflicted many mining camps. He kept the seriousness of his illness from his mother, who always worried about his health, and he recovered. Rinker worked for a series of mining companies—the Mohawk Ledge Mining Company, Goldfield Transfer and Trading Company, and the Baby Florence—as a stenographer until they shut down when the town's economy flagged. When office work fell off, MacMasters sent him on a trip into northern Nevada and Oregon to secure claims for the company. Eventually, stenography work became impossible to find and he turned to the mines. He worked as a "top man" for the Florence mine dumping ore trucks, and for a short while, he worked inside the mine as a "mucker," shoveling ore for transport. Earle also sent home the local newspapers, and when he bought his own Kodak "Brownie" camera he sent home the photos he took and carefully instructed his mother how to put them into photo albums.
Frustrated by the shortage of steady work and the declining stocks in which he lost almost all he had invested, Rinker returned to Indiana in 1908 via a trip through California, Mexico, Oregon, Washington, and British Columbia. While Rinker's two years in Goldfield were brief, he always remembered them as the most exciting of his life.
Inquiry Questions
What affect did Montezuma's elevation have on its mining success?
Montezuma is located near the summit of Montezuma Peak, which rises to an altitude of 8,426 feet seven miles southwest from the town of Goldfield. The mining district was organized in 1867. In January of 1869, silver ore was discovered and the mining camp established. Several shops and stores, including a blacksmith, sprang up during the spring of 1869. A post office opened in 1872-1873, and a large mill was erected in 1886 but ceased operating in 1887.
Institute of Museum and Library Services