Stanley Mallin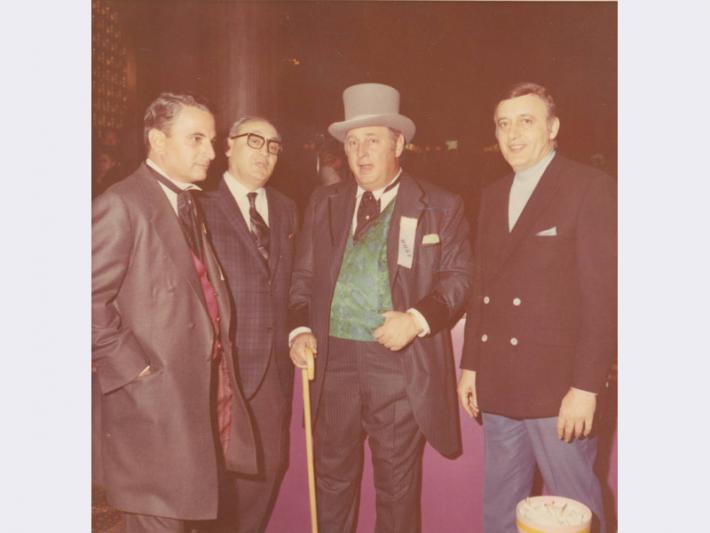 Stanley Mallin (1923- ) is an investor and a former hotel and casino developer. He created Caesars Palace and Circus Circus in Las Vegas, Nevada with business partner Jay Sarno. Mallin and Sarno started the Las Vegas trend of themed casinos when they opened Caesars Palace, a Roman inspired casino, in 1966. The partners introduced the modern concept of a family-friendly Vegas with Circus Circus in 1968. In 1969 they sold Caesars to Lum's, a Florida-based restaurant company that subsequently renamed itself Caesars World. Caesars Palace cost $24 million to build and was sold for $60 million. In 1974 Circus Circus was leased, then eventually sold, to William Bennett and William Pennington.
Stanley Mallin was born on March 25, 1923 in Kansas City, Missouri. When he was young, he worked for his father, who owned apple orchards. Mallin graduated from Southwest High School in Kansas City in 1940, and then went to University of Missouri, where he joined the ROTC. When World War II started he enlisted in the army and served about three years. After the war he finished school and got his degree in business and public administration in 1947. One of his roommates in college was Jay Sarno, who became his lifelong friend and business partner. Sarno and Mallin fought in the South Pacific theater of World War II together and then graduated college at the same time. 
After the war Mallin and Sarno worked together as tile contractors in Miami, Florida, and house builders in Atlanta, Georgia. However, they did not find success until 1958 when they opened the Atlanta Cabana Hotel with the financial help of investors including Jimmy Hoffa, Allen Dorfman, and Doris Day. Mallin built two more Cabanas with Sarno in Palo Alto, California, and Dallas, Texas, before they decided to try their luck in Las Vegas. Mallin moved to Las Vegas permanently in 1968. 
Stanley Mallin married Sandra Mallin on July 31, 1982 in Las Vegas. He was previously married to Virginia Mallin Egyed, with whom he had two children, Jennifer and Jessica.
Source:
Evans, K.J. "Jay Sarno." Las Vegas Review-Journal. September 12, 1999. http://www.reviewjournal.com/news/jay-sarno.
View Related Items
View Oral History