Rita Deanin Abbey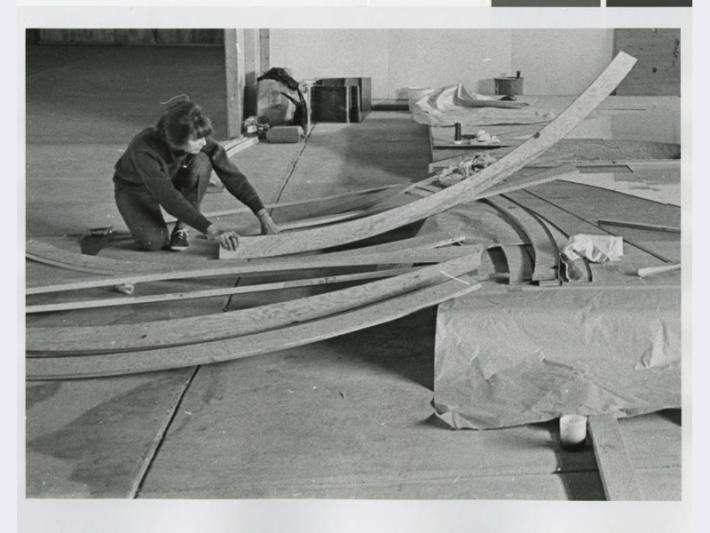 Artist Rita Deanin Abbey lives in Las Vegas, Nevada and is an Emeritus Professor of Art at the University of Nevada, Las Vegas (UNLV). She works in the areas of painting, drawing, printmaking, sculpture, porcelain enamel fired on steel, stained glass, and computer art. Abbey moved to Las Vegas in 1965 and was hired as a teacher in the art department of Nevada Southern University, now known as UNLV, and taught there until 1987. Abbey taught classes in drawing, painting, and color theory, and also developed interdisciplinary classes with the science department. Her works on display in Las Vegas include: Spirit Tower, a 20-foot tall cor-ten steel sculpture at the Summerlin Library; the sixteen Isaiah Stained-Glass Windows in the main sanctuary of Temple Beth Sholom; the bust of Flora Dungan in the Humanities building at UNLV; and a plexiglass mural in one of the University Medical Center buildings on Charleston Boulevard. Abbey also made Wall of Creation, a twenty by forty foot mural made of polyester resin and fiberglass, for Temple Beth Sholom's former synagogue on Oakey Boulevard.
Born in 1930, Abbey grew up in Passaic, New Jersey.  She received a Bachelor of Fine Arts degree in 1952 and a Master of Arts degree in 1954 from the University of New Mexico, Albuquerque, NM.  She also studied at Goddard College, Plainfield, VT; the Art Student's League, Woodstock, NY; the Hans Hofmann School of Fine Arts, Provincetown, MA; and the San Francisco Art Institute, San Francisco, CA.  She has been an artist in residence at the studios of many internationally renowned artists and institutions, and has had over 60 individual exhibitions and participated in over 160 national and international group exhibitions.  She has received many awards, grants, and commissions, including the Governor's Seventh Annual Visual Arts Award for the State of Nevada in 1986, and the City of Las Vegas Office of Cultural Affairs, Las Vegas Arts Commission's Lifetime Achievement Award for Excellence in the Arts in 2012.  She continues to work on new sculptures, paintings, and enamels.
Rita Deanin Abbey has two sons, Joshua (founder of the Las Vegas Jewish Film Festival) and Aaron. She is married to Robert Belliveau.
Sources:
Abbey, Rita Deanin. Interview, 2014 November 29. OH-02192. Transcript. Oral History Research Center, Special Collections, University Libraries, University of Nevada, Las Vegas. Las Vegas, Nevada.
"Rita Deanin Abbey." International Sculpture Center. Accessed March 31, 2015. http://www.sculpture.org/portfolio/sculptorPage.php?sculptor_id=1003841.
View Related Items
View Video Interview