Moe Dalitz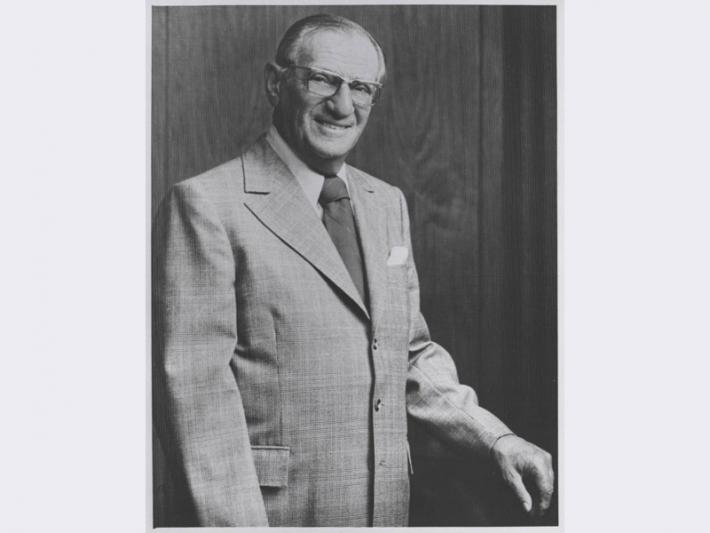 Morris "Moe" Dalitz (1899-1989), often referred to as "Mr. Las Vegas," was a casino operator and real estate developer in Las Vegas, Nevada for the last 40 years of his life, and a bootlegger and laundry operator in Cleveland, Ohio in his early life. After serving in the Army in the 1940s, Dalitz moved to Las Vegas in 1949.  Dalitz and a group of Cleveland investors purchased the Desert Inn, which opened in 1950, after founder Wilbur Clark ran out of money. Dalitz understood that people wanted more than gambling, and responded by developing the Desert Inn Country Club and the Tournament of Champions golf tournament. Dalitz was friends with Teamsters union president Jimmy Hoffa, and consequently had access to millions of dollars in loans from the Teamsters Central States Pension Fund. In 1958 Dalitz and his associates, funded in part by loans from the Teamsters union, took over the Stardust Resort & Casino. After an expansion and the addition of Lido de Paris, a Parisian-style floorshow, the Stardust enjoyed immense success. In the early 1950s, Dalitz partnered with Irwin Molasky, Merv Adelson, and Allard Roen to form Paradise Development Company, which built Sunrise Hospital, Boulevard Mall, Nathan Adelson Hospice, several buildings for the University of Nevada, Las Vegas (UNLV), and residential neighborhoods. He also built the Las Vegas Convention Center and the Sundance Hotel (which was the tallest building in Nevada when it was built in 1980).
Born Morris Barney Dalitz on December 24, 1899 in Boston, Massachusetts, Dalitz's family moved to Michigan while he was a child. Dalitz grew up working alongside his father in the laundry business. It was through his role as a laundry operator that Dalitz met future Teamsters union president Jimmy Hoffa, and was subsequently enticed into the profitable Prohibition-era liquor trade. His operation transported Canadian whiskey in trucks floated on barges across the Great Lakes, and Dalitz reinvested his profits in legitimate businesses in Detroit, Michigan and Cleveland, Ohio. Dalitz also operated illegal casinos, which he later claimed were frequented by so many politicians and judges, he figured "they had to be all right." In 1951 Senator Estes Kefauver headed the United States Special Committee to Investigate Crime in Interstate Commerce, and Dalitz was questioned in what became known as the Kefauver hearings. In response to questions about his involvement in the illegal liquor trade, Dalitz famously said, "If you people wouldn't have drunk it, I wouldn't have bootlegged it." Although he was associated with mob legends such as Meyer Lansky and Benjamin "Bugsy" Siegel, and identified as a mob associate by a 1978 California Organized Crime Control Commission report, Dalitz was only indicted twice (and both times the charges were dropped): for bootlegging in Buffalo, New York in 1930, and for tax evasion in Los Angeles, California in 1965.
Although his criminal past haunted him at times, Dalitz was also a charitable contributor to the Las Vegas community. In 1956 Dalitz held a gin rummy tournament at the Desert Inn to raise money for a new synagogue for Temple Beth Sholom. He served as chair of the United Jewish Appeal, which raised money for Jews in Europe and Palestine. In the early 1980s Dalitz contributed $500,000 for the construction of Congregation Ner Tamid's first permanent synagogue. In 1979 he set up the Moe Dalitz Charitable Remainder Unitrust, and when he died in 1989, the $1.3 million trust was split between 14 non-profit organizations. 
Source:
Smith, John L. "Moe Dalitz." Las Vegas Review-Journal. February 7, 1999. http://www.reviewjournal.com/news/moe-dalitz.
View Related Items
View Oral History