Jay Sarno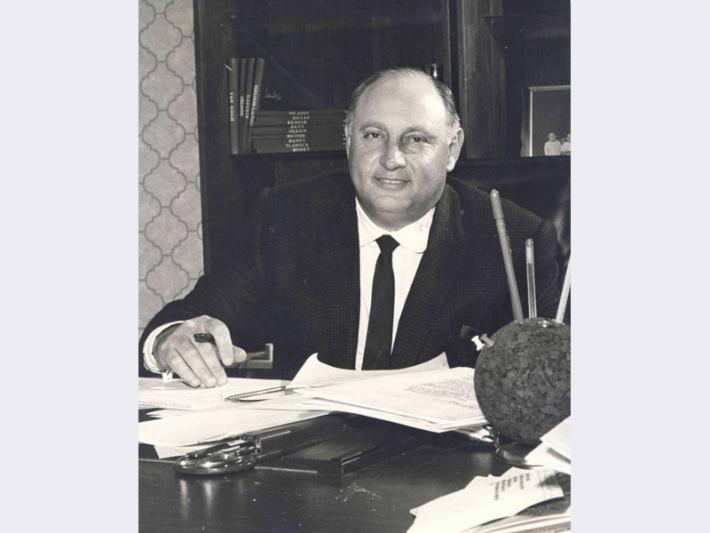 Jay Sarno (1921-1984) was a hotel and casino developer whose innovations had a major impact on the Las Vegas, Nevada casino hotel industry. In 1966, Sarno opened Caesars Palace, the first truly themed resort on the Las Vegas Strip. Two years later, he opened Circus Circus, the first family-themed casino. In 1969, Sarno and his associates sold Caesars Palace to Lum's, a Florida-based restaurant company that subsequently renamed itself Caesars World. In 1974, while under indictment for allegedly offering a $75,000 bribe to an IRS agent, Sarno and his partners in Circus Circus leased the casino to Bill Bennett and Bill Pennington. Sarno, who was represented by attorney Oscar Goodman, was acquitted of the bribery charges in a 1975 trial. He then unsuccessfully attempted to develop the Grandissimo, which would have been a 6,000-room hotel casino near the Las Vegas Strip. Although Grandissimo failed, Sarno began the trend of themed mega-resorts on the Las Vegas Strip and several opened within a decade of his death.
Born in St. Joseph, Missouri, Sarno served in the armed forces in World War II and earned a bachelor's degree in business from the University of Missouri, where he met lifelong friend and business partner Stanley Mallin. After the war Mallin and Sarno worked together as tile contractors in Miami, Florida, and house builders in Atlanta, Georgia. However, they did not find success until 1958 when they opened the Atlanta Cabana Hotel with the financial help of Jimmy Hoffa, Allen Dorfman, and Doris Day. Sarno built two more Cabanas with Mallin in Palo Alto, California, and Dallas, Texas, before they decided to try their luck in Las Vegas.
Jay Sarno was married to Joyce Sarno Keys, whom he divorced in 1974. He had four children: Jay C. Sarno Jr., September, Heidi, and Freddie.
Source:
Schwartz, David G.Grandissimo: the first emperor of Las Vegas: how Jay Sarno won a casino empire, lost it, and inspired modern Las Vegas. Las Vegas, Nevada: Winchester Books, 2013.
View Related Items
View Collection Guide
View Photograph Collection Guide