Chic Hecht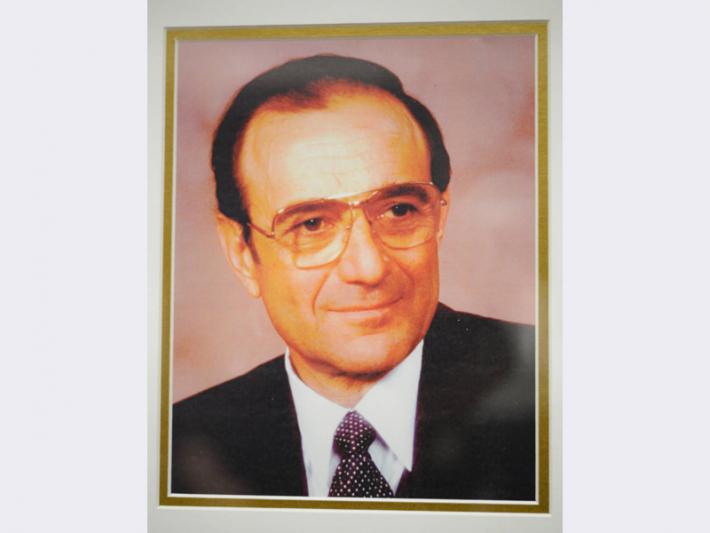 Nevada businessman and Republican politician Chic Hecht (1928-2006) was elected to the U.S. Senate in November 1982, in what some consider the biggest political upset in Nevada history. The "quiet diplomacy" he used to help Soviet Jews gain permission to emigrate was one of his greatest accomplishments as a U.S. Senator. During the Korean War, Mayer Jacob "Chic" Hecht served as a counterintelligence agent in Berlin, after which he moved to Las Vegas and bought a retail clothing business. He expanded to other areas of business, and also represented Clark County in the Nevada State Senate for eight years.
Chic Hecht was born to Russian immigrant parents in Cape Giradeau, Missouri. After earning his Bachelor of Science in Retailing from Washington University in St. Louis in 1949, Hecht was drafted into the military and sent to Berlin for two years. He remained involved in the intelligence community, serving on the National Military Intelligence Board, and as president of the Military Intelligence Association during the 1970s. In 1988 Hecht was inducted into the Army Intelligence Hall of Fame.
After his military service, Hecht moved to Las Vegas where he began his career in business and politics. He owned several successful clothing stores, invested in gaming and real estate, and served on the Nevada State Bank board of directors for 20 years. He was also president of the Retail Merchants Bureau of Las Vegas and director of the Las Vegas Chamber of Commerce.
During his time in the Nevada State Senate, Hecht worked closely with Governor Paul Laxalt, creating sports facilities, the first mental health care facility in Southern Nevada, and the Nevada Community College system. As a U.S. Senator in the 1980s, Hecht served on several committees including Banking, Housing and Urban Affairs; Energy and Natural Resources; and the Select Committee on Intelligence. He was also chairman of the Housing and Urban Affairs subcommittee. In his effort to help Soviet Jews who were refused permission to emigrate, Senator Hecht used his position and his friendship with President Reagan to appeal to the Soviet Union. At a 1986 conference in Reykjavik, Iceland, Reagan passed along a list of twelve hundred names to Mikhail Gorbachev, who agreed to allow their emigration as long as there was no publicity.
Hecht spent five years as ambassador to the Bahamas in the early 1990s, after which he returned to Las Vegas. In his later years, Hecht was active in Jewish affairs and supported Lubavitch Chabad. Hecht had two daughters, Leslie and Lori, with wife Gail (née Kahn), whom he married in 1959. Chic Hecht died of cancer on May 15, 2006.
Chronology:
1928: Mayer Jacob "Chic" Hecht born in Missouri on November 30.
1952-1953: Serves as U.S. Army intelligence officer in Berlin.
1954: Moves to Las Vegas and opens his first retail store.
1967-1975: Represents Clark County in Nevada State Senate.
1983-1989: Serves one term in U.S. Senate.
1989-1994: Ambassador to the Bahamas.
2006: Dies on May 15.
Sources:
Marschall, John P. Jews in Nevada: a history. Reno: University of Nevada Press, 2008.
Vogel, Ed. "Hecht, former U.S. Senator, dies in LV," Las Vegas Review-Journal (Las Vegas, NV), May 16, 2006.
View Related Items
View Collection Guide
View Oral History