Bobby Morris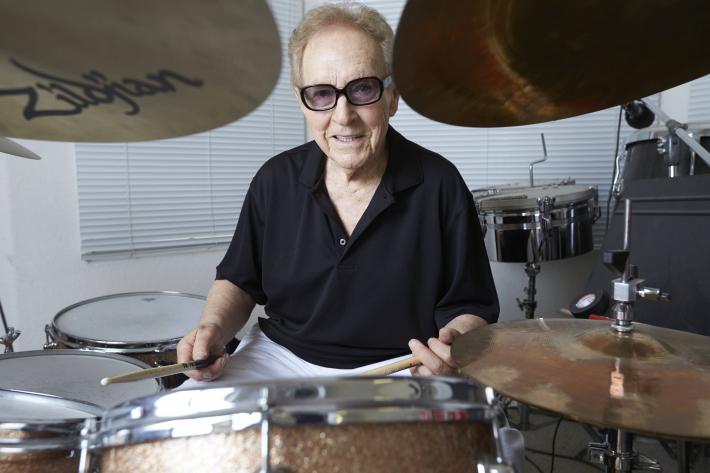 In 1937, at the age of ten, Bobby Morris (born Boruch Moishe Stempelman) immigrated from Wilno, Poland to Brooklyn, New York.  His passion for drumming was ignited soon after, and he began shining shoes to pay for drumming lessons from Henry Adler.  When he was thirteen years old, Morris got his first gig playing at the Musicians Union in the Catskill Mountains, which lasted several summers.  His career blossomed and he was soon playing jazz around New York City with different artists while simultaneously studying at the Manhattan School of Music.  
Seeking a different–and warmer–scenery, Morris moved to Las Vegas in 1950 to play in the Last Frontier Hotel and Casino's orchestra, working with artists like Liberace and Ronald "Ronnie" Reagan.  Over the next several years, he had an exciting and distinguished career as a jazz musician, playing in lounges, on studio albums and even at a presidential inauguration, with artists like Louis Prima and Keely Smith, Judy Garland, Eddie Fisher, and eventually with Elvis Presley as his musical director.  In addition, Morris started his own agency – the Bobby Morris Agency – and managed acts like Robert Goulet and Keely Smith.  
Sources:
Morris, Bobby. Interview, 2016 March 24. OH-02638. Transcript. Oral History Research Center. Special Collections, University Libraries, University of Las Vegas Nevada. Las Vegas, Nevada. 
View Related Items
View Oral History
View Oral History
Listen to Audio clip