Sperling Kronberg Mack Holocaust Resource Center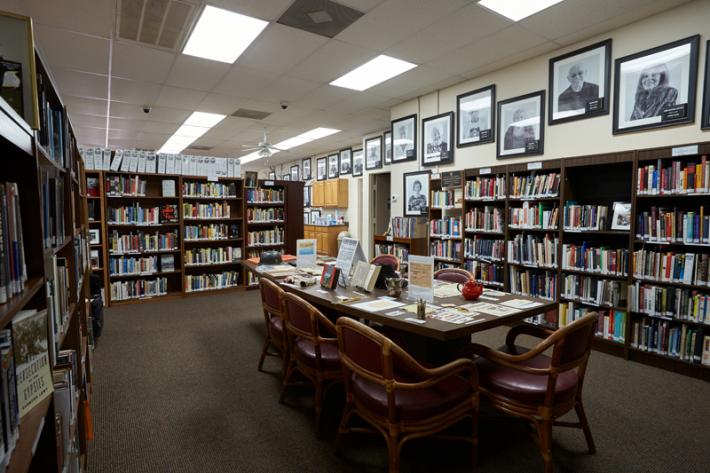 The Sperling Kronberg Mack Holocaust Resource Center of Las Vegas, Nevada is a lending library of books and materials related to the Holocaust, as well as "a hub for Holocaust Education activities and programs in Nevada." Free and open to the public, it was established in 1980 with an endowment from the Lloyd and Edythe Katz family in memory of Edythe's parents Gertrude and Hyman Sperling. Lillian and Henry Kronberg and Judy and Ron Mack fund a media center within the library, which also contains a collection of Holocaust artifacts. The Holocaust Resource Center provides teacher training workshops about the Holocaust and its outreach program promotes Holocaust awareness and educational opportunities. According to founding chairperson Edythe Katz Yarchever, the Center's "main purpose is, and always has been, to educate the community through the lessons of the Holocaust, by teaching respect for human dignity and the value of cultural and ethnic differences." Its motto is: "remembering the past to preserve the future."
Katz Yarchever remains involved in the Holocaust Resource Center as Honorary Chairperson. She was formerly also the chairperson of Nevada Governor's Advisory Council on Education Relating to the Holocaust, which the Center continues to collaborate with. Other organizations that the Holocaust Resource Center works with include: the Clark County School District, the Holocaust Survivors Group of Southern Nevada, the Northwest Reno Library (home to their "sister" Holocaust Collection), the Washoe County School District, the Nevada State Department of Education, and the Anti-Defamation League's "No Place for Hate" program. The Center was founded under the auspices of the Jewish Federation of Las Vegas but is no longer part of the Federation.
Sources:
"History." Sperling Kronberg Mack Holocaust Resource Center. Accessed February 17, 2015. http://www.lvhresourcecenter.com/history/.
Wexler-Margolies, Lynn. "Faces of Hope: A Tribute to Las Vegas' Holocaust Survivors." David Magazine. Accessed February 17, 2015. http://davidlv.com/2013/04/think/FacesOfHope.php.
View Related Materials
View Oral History