Muriel Stevens: Added spice and sweetness to Las Vegas history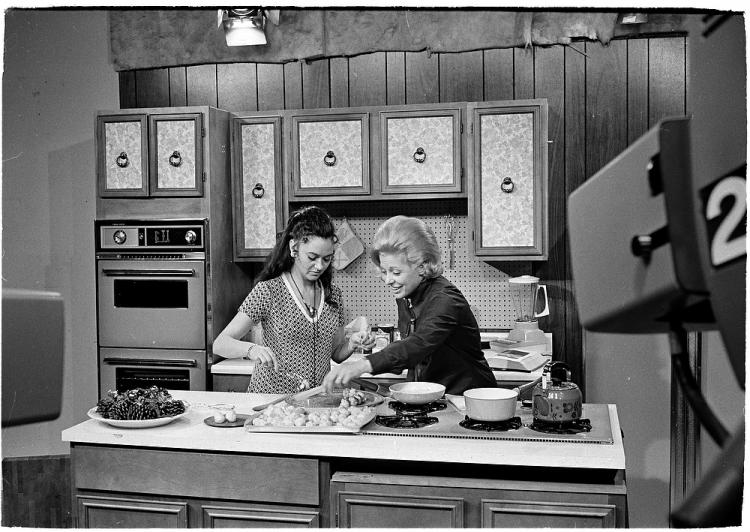 "If you cook with love, they'll love your cooking." ~ Muriel Stevens is quoted as saying in her obituary this week. This mantra infused much of Muriel's career as a television chef and newspaper columnist. I can only imagine having a chance to dine with her or cook together.
Aaron Mayes, Curator for Visual Materials at UNLV's Special Collections and former colleague of Muriel's at the Sun newspaper, shared a story with me, a time when he asked Muriel to suggest a special restaurant his upcoming wedding anniversary. He recalls cringing a bit when she suggested going to Barbary Coast. She squeezed his hand and smiled, "Trust me." And of course he did, as he always did, even when he rode the center elevator to lower level of the Barbary Coast. That trust led to a magnificent meal at Drai's.   
Sadly, life's timing did not make it possible to record Muriel's oral history. However, through the generosity of the Muriel Stevens Collection archived here in Special Collections, she will touch many people's lives for generations to come.
Today I copied one of her recipes, so neatly typed and archived: Muriel's Quick Cobbler. (I am drawn to quick recipes and cherries.) I look forward to savoring it and paying tribute to such an iconic person from Las Vegas' history as its aroma fills my kitchen. [Recipe below]
Muriel was born Dec. 22, 1925 and passed on Dec. 12, 2016. Her legacy is a cherished part of the Southern Nevada Jewish Heritage Project. Thank you to her and her family.
To read more about Muriel click this link: http://digital.library.unlv.edu/jewishheritage/people/muriel-stevens