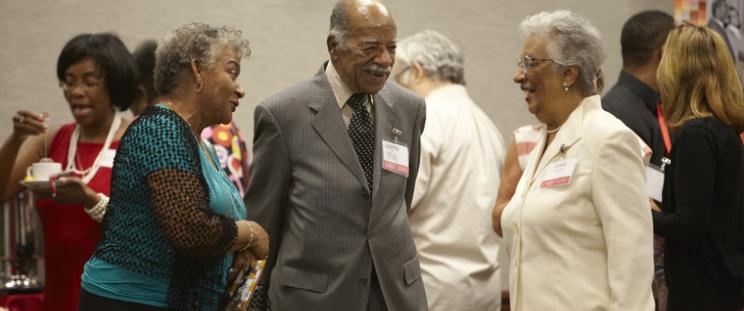 Get Involved
Tell Your Story:
The Oral History Research Center is continually seeking relevant stories about the African American experience in Las Vegas. To share your memories contact us at: 702-895-2222.
Showcase Collections and Share Personal History:
If you are a cultural heritage organization in Southern Nevada with materials of interest to the African American community, please get in touch. The goal of this project is to create a comprehensive research portal centralizing access to relevant resources. Please send us a link to your institution's website, online project, or digitized resources. If your staff would like assistance digitizing material, UNLV University Libraries can provide digitization support (including use of scanners, technical specifications, metadata assistance, and web delivery via our CONTENTdm installation).
If you would like to host a community scanning day for your patrons, UNLV can help facilitate a personal archiving day where community members come to a designated location to learn more about this project and scan selected personal materials. Participants receive digital copies and may contribute their memories to the project. Contact Digital Collections for more information.
If you have a large collection of personal items, UNLV Special Collections can assist with evaluating the collection.
Contribute:
Learn more about supporting Special Collections and the Oral History Research Center.
Contact
To Participate:
Oral History Research Center
UNLV University Libraries
University of Nevada Las Vegas
702-895-2222
To Donate Collections:
UNLV Special Collections
UNLV University Libraries
University of Nevada Las Vegas
702-895-2222
To Obtain Assistance Digitizing Materials or to set up a Community Scanning Day:
UNLV Digital Collections
UNLV University Libraries
University of Nevada, Las Vegas
702-895-2209
Cory Lampert, Head of Digital Collections (cory.lampert@unlv.edu)