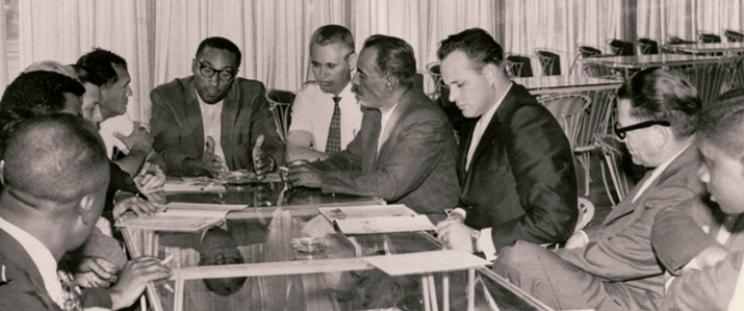 The Community Partners of the African American Collaborative joined together because each believes in the importance of collecting, preserving, and making accessible the history of African Americans in Las Vegas.
Users who enter this website will discover a single portal that connects stories and historical evidence of the African American experience. Our goal is to fully preserve the heritage of the Las Vegas black community—its businesses, schools, churches, social and political organizations, publications, and entertainment. We will continue to locate, link, and curate this vibrant African American history—and make it easily accessible to everyone. Welcome. Enjoy the exploration and discovery. We wish to continue to improve and enhance this site for all users. Share your feedback about the site with us.
The large-scale, grant-funded project, Documenting the African-American Experience in Las Vegas, was implemented in stages. The initial phase of this project (2012-2013) focused on the formation of the African American Community Advisory Board, identification of cultural heritage organizations (our partners) with collection materials via a survey, and the creation of a preliminary demonstration collection delivered in a central website portal. This portal provided online user access to digitized UNLV Special Collections holding from the Oral History Research Center and Photograph collections, links to Partner digital collections/websites, and information about the collaborative project.
In 2013 the UNLV Libraries received a follow-up IMLS LSTA grant directly supporting the expansion of this project. The focus of this grant is the Berkley Square neighborhood of Las Vegas. Major deliverables included continued collaboration with and outreach to the community, including work with the project partners, the African American Advisory Board, and the Berkley Square Neighborhood Association; continued work on collecting and transcribing oral history interviews; and digitization, description, and inclusion of additional materials into the African American Experience in Las Vegas digital collection.
When this website was launched in January 2014, the digital collection contained approximately 600 items. During subsequent grant periods, additional materials were added to bring the total to 4543 items. The multiple formats include text, images, and multimedia. Roughly 75 oral history interviews previously conducted by the UNLV Libraries' Oral History Research Center are searchable via keywords or full text. Additional audio clips (52 mp3 files) complement the text, as well as photograph collections (398 total images) and a small selection of items from the manuscript collections (14 documents) that are relevant to the project's focus. Each narrator (47 total) is represented in the collection with a biographical information record in the collection that joins related materials together in one place for easy user access. While some Partners shared materials for digitization that include items like the Jay Florian Mitchell Collection held by the Nevada State Museum and Historical Society (260 images), others shared information about their holdings and links to their collection websites.
In 2016 the UNLV University Libraries partnered with VegasPBS to complete the final phase of the project. With additional grant funding from the Institute of Museum and Library Services and The Commission for the Las Vegas Centennial, they produced the documentary, African Americans: the Las Vegas Experience. In addition, they created a curriculum guide to help K-12 teachers incorporate video clips and primary sources into classroom teaching and assignments.
Wiener-Rogers Law Library
The Wiener-Rogers Law Library maintains the archives of the Las Vegas Chapter of the National Bar Association, the country's largest organization of African American lawyers. The archive currently includes documents, photographs, film, oral histories, and ephemera that relate to the LVNBA and its members, many of whom were important contributors to civil rights initiatives in the state.
Las Vegas-Clark County Library District
The Las Vegas-Clark County Library District's African American Special Collection consists of specialized materials by and about African Americans. Collection emphasis is on the African American experience in Las Vegas, Nevada, and the West. The core collection consists of books, periodicals, government publications, videos, and oral histories.
Henderson Libraries
Henderson District Public Libraries digital collections documenting the African American history of Henderson include BMI Photographs, BMI Newsletters, Henderson's History in Scrapbooks, Henderson Home News, and Henderson Memories. A number of BMI photographs document African American employees and their housing development, Carver Park. Additional references to Carver Park can be found in BMI newsletters. Henderson's History in Scrapbooks and Henderson Home News feature articles addressing Carver Park and race relations at BMI. Henderson Memories features a hand-drawn diagram of Carver Park and several oral histories.
City of Las Vegas
The City of Las Vegas Office of the City Clerk manages archived records pertaining to city functions, programs and projects. These records include, but are not limited to, original ordinances and resolutions; public meeting records such as minutes and agendas for the City Council, Planning Commission, city boards and commissions; records of public appointees for all boards and commissions; and related documentation for agenda items as well as architectural drawings, special area plans, and financial and budgetary reports. In addition, the city keeps the historic deed records for Woodlawn Cemetery. 
Clark County Museum
The Clark County Museum's collection includes newspaper and some photographic archives about black workers and their families at the Basic Magnesium Plant in Henderson. The home of the first black family allowed to live in Boulder City has been moved to the museum and is awaiting restoration. Other materials relating to the black experience in Southern Nevada, especially before and during World War II, are in the museum archives, which are open by appointment.
Nevada State Museum, Las Vegas  
The Nevada State Museum, Las Vegas holds in its archives numerous photographs depicting the African American experience in Las Vegas/Southern Nevada, with a particular focus on the Moulin Rouge Hotel and Casino, and performances in Westside's famed Carver House. The Museum's permanent exhibits include a section on African Americans in Las Vegas featuring worker uniforms and memorabilia from the Moulin Rouge. In addition, the Museum library maintains detailed indexes for the Las Vegas Age and Las Vegas Review-Journal newspapers for the years 1905-1967, which include articles pertinent to early local black history and more.
VegasPBS
VegasPBS Video On Demand includes the Las Vegas African American Community Conversations. It is a four-part, one-hour round table series with local black Las Vegans who share their powerful stories and great history. Topics range from migration from the South, civil rights, education, church, entertainment, and the early legal community of Las Vegas.
Las Vegas National Bar Association
At its core, the Las Vegas Chapter of the National Bar Association (LVNBA) is a civil rights bar association. Originally founded in 1981, the LVNBA has a predominantly African American membership and is Nevada's first and only National Bar Association (NBA) affiliate. The 2012 Black History Month issue of the Nevada Lawyer magazine celebrates the contributions of African American lawyers in Nevada against the backdrop of the civil rights movement on a state level and a national level. This historic issue includes a detailed timeline of African American legal history in Nevada.
UNLV Libraries Special Collections
UNLV Special Collections specializes in documenting the history, culture and physical environment of the city of Las Vegas, the Southern Nevada region, and the gaming industry. The collections include books, archives, printed and visual materials in all formats, photographs, media, and video and audio oral history tapes. Specific African American collections include archival and photograph collections from Ruby Duncan and Operation Life; Donald Clark; Mabel Hoggard; Alice Key; Dr. James McMillan; Nancy Webb Williams; Clarence Ray; Lloyd Gill and Milton Norman, as well as the records of the Clark County Economic Opportunity Board, the local agency that administered the federal antipoverty programs of the Johnson administration. Also of note are the research files and documents relating to race relations in Las Vegas assembled by UNR Professor Elmo Rusco. Publicity collections from various Las Vegas hotels contain numerous photographs of prominent African American entertainers.
In addition Special Collections houses runs of the Las Vegas Sentinel, Sentinel Voice and Las Vegas Voice newspapers. The University Archives house collections related to faculty, student life, organizations and athletics reflecting African Americans who have contributed to diversity of UNLV. The UNLV Oral History Research Center's collection of African American oral histories, both original recordings and transcriptions, are also housed in Special Collections as well as transcripts from the UNR and other oral history programs. Given the integration of the African American experience into the larger life and community of Las Vegas, it is also documented throughout other collections not specifically associated with specific African Americans or African American organizations and institutions.
Hannah Brown worked in the airline industry for 35 years. She serves on many community organizations such as Urban Chamber of Commerce, Caucus of African American Nevadans, Las Vegas/Clark County affiliate of the National Urban League.
Dr. Sonya Douglass Horsford is a senior resident scholar of education with The Lincy Institute at the University of Nevada, Las Vegas where she focuses on the history of education in the U.S., politics of education, and role of schools in society.
Jarmilla McMillan-Arnold is a dynamic community member, serving on the Westside School Coordination Team, West Las Vegas Advisory Board, Las Vegas Citizens Review Board, Historic Preservation Commission for the City of Las Vegas, Water District IRPAC, and Southern Nevada Coalition of Concerned Women.
Courtney Mooney, AICP, is Urban Design Coordinator and Historic Preservation Officer for the City of Las Vegas Department of Planning.
Todd E. Robinson, PhD, is an Associate Professor at UNLV. He received a dual BA in History and American Studies from American University, MM from Cambridge College, MA from the University of Massachusetts, and a PhD in History from the University of Michigan. He offers undergraduate and graduate courses in African American History, urban and suburban history, race and sports, and social movements.
Carrie Sampson, M.S., is a doctoral student in the Public Affairs program and recently completed her graduate certificate in Women's Studies, both at UNLV. Her capstone research in Women's Studies was on the League of Women Voter's role in school desegregation in Las Vegas. Additionally, she has been working with Dr. Sonya Horsford on a larger project regarding the history of school desegregation in Southern Nevada.
Brenda Williams is the energetic Founder of the Westside School Alumni Foundation and the leading force behind the book "Westside School: Our School, Our Community, Our Time (1923 – 1967).
Learn more about supporting Special Collections and the Oral History Research Center.