Nate Mack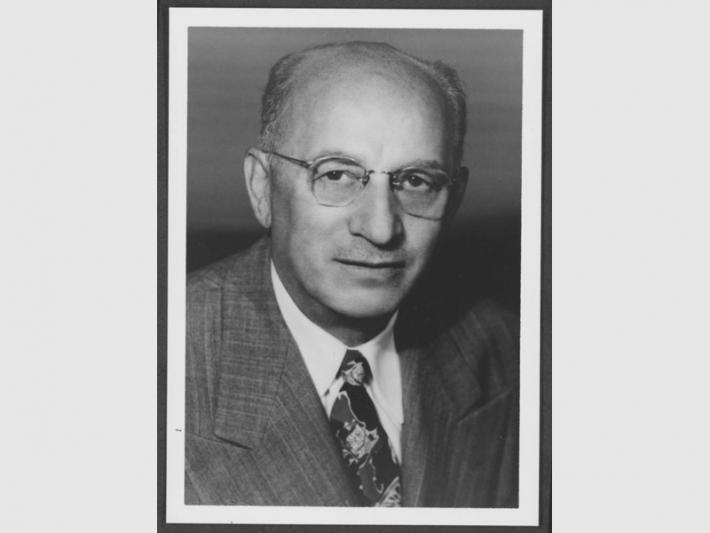 Nathan "Nate" Mack (1891-1965) was one of the pioneers of the Las Vegas, Nevada Jewish community. Born January 27, 1891 in Mielec, Poland, he and his brothers Louis and Harry were entrepreneurial. They operated shoe stores in Michigan and then moved to Los Angeles where they owned a supermarket. By the 1930s, Nate had his sights on Nevada and settled his family in southern Nevada where he operated various businesses: sold tires and batteries, ran a towing service and scrap metal yard, sold produce, and owned a clothing store, a liquor store, and a Fremont Street bar. He invested in jukeboxes and slot machines, which he placed in bars in Central and Southern Nevada. He also invested in land and casinos, with partners such as Moe Sedway, Sanford Adler, Gus Greenbaum, Charlie Resnick, and Art Rosen. 
In 1950, Mack loaned Hank Greenspun $1,000 that helped establish the Las Vegas Sun newspaper. In 1954, Nate Mack and his son Jerome D. Mack founded the Bank of Las Vegas, an institution that became successful loaning money to casinos at a time when other banks would not. The bank also led to the partnership of Jerry Mack and Parry Thomas.
Around 1937, Nate Mack and his wife, Jenny (Solomon) Mack, and others felt it important to formalize their Jewish community in Las Vegas. This group,  the Sons and Daughters of Israel, evolved into the first Jewish congregation and was later named Temple Beth Sholom. From 1945 to 1949, Mack served as the temple's second president and was the driving force behind the construction of its first synagogue, the Jewish Community Center. For many years he was the state chairman of the United Jewish Appeal.
Source:
Marschall, John P. Jews in Nevada: a history. Reno: University of Nevada Press, 2008.
Mack, Michael S. Interview, 2015 May 20. OH-02856. Transcript. Oral History Research Center, Special Collections, University Libraries, University of Nevada, Las Vegas. Las Vegas, Nevada.
View Related Items