Marc Ratner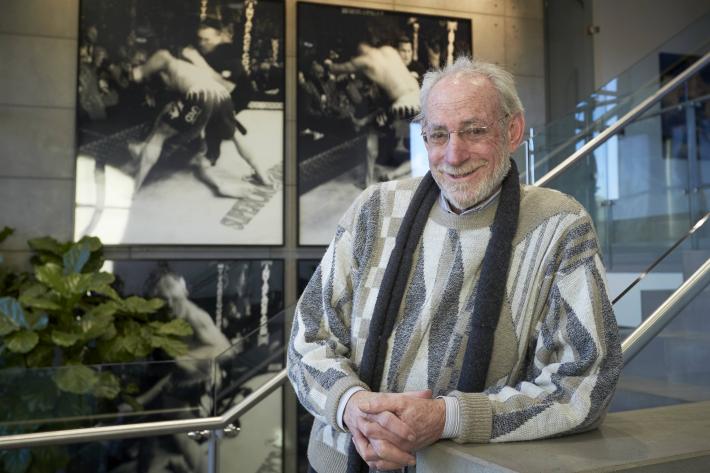 In 1957, Marc Ratner ( 1944 -   ) was in seventh grade when his father purchased a retail beauty supply business and moved the family to Las Vegas. The Ratner family joined Temple Beth Sholom, where Marc became a bar mitzvah. He is a graduate of Las Vegas High School and Nevada Southern (now UNLV.)
Ratner's career path evolved from the family business to business management for media companies.  In 1967, he developed an interest in officiating high school football and later Division I-A football. He served as official in three collegiate bowl games: the 2003 Aloha Bowl, 2000 Independence Bowl and 2006 Cotton Bowl.
In 1993, Ratner became the executive director of the Nevada State Athletic Commission. His experiences include newsworthy boxing episodes such as the "Fan Man" parachutist incident in 1963 during the Evander Holyfield vs Riddick Bowe fight at Caesars and the 1997 "Bite Fight" when Mike Tyson took a bite out of Evander Holyfield's ear.  
In 2016, he was inducted into the International Boxing Hall of Fame, an extraordinary honor for a nonparticipant. He has long been a fan of the sport and talks about the first fight he ever attended, becoming a ring inspector in 1985 and then starting a new phase of his career in 2006, as Vice President of Regulatory Affairs for the Ultimate Fighting Championship [UFC].
Among his community involvement is serving on the board of Jewish Family Services Agency. In 1997 he was honored by the National Council of Christians and Jews. 
Ratner is married to Jody Ratner.
Sources:
Ratner, Marc. Interview, 2016 August 23 & 2017 May 19. OH-02807. Transcript. Oral History Research Center, Special Collections, University Libraries, University of Nevada, Las Vegas. Las Vegas, Nevada.
"2005 Inductee – Marc Ratner." Southern Nevada Sports Hall of Fame. http://www.sportshalloffame.net/hall-of-famers/marc-ratner/
View Oral History