Art Marshall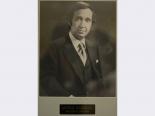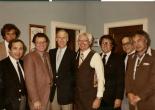 Art Marshall (1929- ) is a retired Las Vegas, Nevada businessman, banker, and former member of the Nevada Gaming Commission. Marshall moved to Las Vegas in 1953 and established the Marshall-Rousso retail clothing company in 1955 with his brother-in-law Herb Rousso. Around 1980 Marshall began a career in state government when he was appointed to the board of the Public Employees Retirement System (PERS) by Governor Robert List. Beginning in 1997, he served twelve years on the Nevada Gaming Commission, which controls and licenses everyone involved in the gaming industry in Nevada. Marshall later expanded his activities to include banking and was chairman of Nevada State Bank for fourteen years, until he retired in 2009. Marshall also established himself as a leader in the local Jewish community. He was instrumental in the formation of the local Nevada Region office of the Anti-Defamation League (ADL) and he was involved in Israel bonds fundraising efforts. Marshall served as president of both Temple Beth Sholom and the Jewish Federation of Las Vegas, and he is also a member of the American Israel Public Affairs Committee (AIPAC).
Art Marshall was born and raised in Cleveland, Ohio. He attended Kent State University for two years and met his wife Jayn in 1953. The couple moved to Las Vegas in 1953, where Marshall worked for his father-in-law, Abe Saltzman, who owned a retail clothing store called Sara's of Las Vegas. Saltzman retired soon after, and Marshall and his brother-in-law Herb Rousso expanded the business, opening three more stores on the Las Vegas Strip. The company, renamed Marshall-Rousso, eventually opened stores in many Strip hotels, starting with a location in the Sahara Hotel and Casino in 1964. Marshall has since retired, although his son, Todd Marshall, is still involved with the business, which is now called Marshall Retail Group. Art Marshall also has a daughter, Cari Marshall. His wife Jayn Marshall passed away in 2010.
Source:
Sheehan, Jack. The Marshall Plan. United States: J. Sheehan?, 2013.
View Related Items
View Oral History