Jewish Nevada - Nevada's Jewish Federation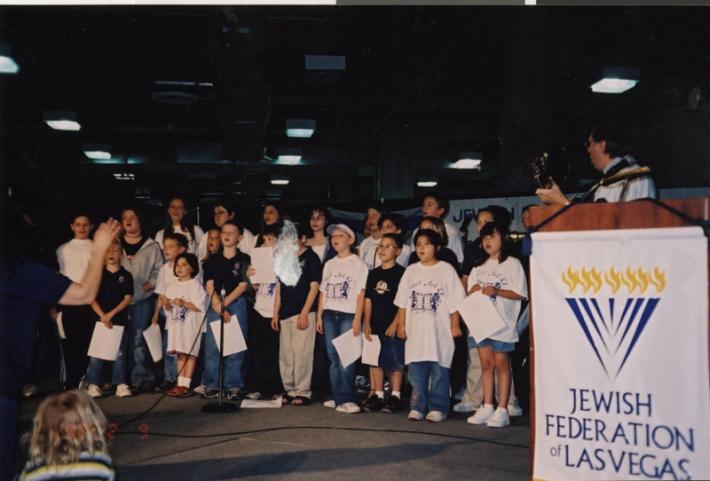 The non-profit Jewish Nevada (formerly Jewish Federation of Las Vegas) is the central coordinating body for fundraising, planning, allocations, and community services for the Jewish community in Las Vegas, Nevada and serves as the local chapter of the Jewish Federations of North America. The Las Vegas chapter has served the community since the 1960s and has raised several million dollars to support Jewish and humanitarian causes in Las Vegas, Israel, and in 59 countries around the world.
The first major Jewish fund-raising organization in Las Vegas was the United Jewish Appeal. In 1947 it raised $40,000 for Jews in Europe and Palestine, the highest per-capita contribution in the United States. Las Vegas casino executives Moe Sedway, Jake Kozloff, Gus Greenbaum, Sam Tucker, and Moe Dalitz all served as chairs of the organization. 
The organization has had several names. What began as the United Jewish Appeal morphed into the Las Vegas Combined Jewish Appeal during the 1960s, which was the first nationally recognized Jewish organization in Southern Nevada. The leadership also changed, with more involvement from members outside of the gaming industry. Jerome D. Mack served as the first president, followed by community leaders such as Arthur Marshall, Lloyd Katz, and Dorothy Eisenberg. After Jerry Countess was hired as the first director of the organization around 1975, the Combined Jewish Appeal founded the Jewish Family Service Agency and started publishing a newspaper called the Jewish Reporter. In November 1979 it affiliated with about 800 other chapters at the National Council of Jewish Federations, and became the Jewish Federation of Las Vegas.
In 2003 the Jewish Federation of Las Vegas affiliated with the national umbrella organization United Jewish Communities, now known as the Jewish Federations of North America. The Las Vegas organization was briefly known as the Jewish Federation of Las Vegas/United Jewish Community (JFLV/UJC), a name that did not stick. Local beneficiary organizations of Jewish Federation funds in 2014 included Las Vegas Senior Lifeline; JewEL (Jewish Emerging Leaders); Hillel at University of Nevada, Las Vegas and University of Nevada, Reno; Jewish Information and Volunteer Service (JIVS); Jewish Community Foundation; and more. The Jewish Federation describes itself as "Las Vegas' Center for Jewish Philanthropy and Community Development" committed to the values of "Tikkun Olam (repairing the world); Tzedakah (righteousness and philanthropy); and G'milut Hasadim (acts of kindness and service)." 
At the Federation's annual meeting in December 2016, new CEO Todd Polikoff and incoming President Marla Letizia announced the organization's name change to Jewish Nevada. 
Sources:
"About Us." Jewish Federation of Las Vegas. Accessed February 17, 2015. http://jewishlasvegas.com/about-us.
Marschall, John P. Jews in Nevada: a history. Reno: University of Nevada Press, 2008.
View Related Materials
View Collection Guide